"Are you meeting with clients in the middle of our vacation? Again?!"
My husband is grumbling as he and I are packing our passports, bathing suits, and towels en route to our Greek vacation. But you know me! I manage to fit conferences, expos, meetings with client and colleague into almost every trip abroad, not just my business trips. When in Barcelona, I pop over to Dubrovnik to attend the Elia Association event for translation executives. When with my family in Japan, I abandon Ronnie, my husband, and my daughter to the tender mercies of Disneyworld Tokyo and hop over to an international localization conference, and when in Paris, I schedule a meeting in the exclusive Atelier of Van Cleef & Arpels jewelry emporium.
But Greece? Our vacations in the Greek Islands, of which there have been quite a few, are nothing but vacation. We make a point to completely disconnect from the foibles of this world and instead to focus on the clear turquoise waters of the Aegean Sea or the thickness of the tzatziki at the local taverna. For us, the Greek Islands are *the* destination nonpareil: a fairly short and inexpensive flight from home, basic and affordable room and board, and the atmosphere …. Need I say more?
This years, we decided to take advantage of the fact that, our now grown kids prefer to reduce our presence in their lives to the barest minimum, and took an almost week-long vacation-for-two on Andros, an island we've never visited before. A little romance 27 years in. Not a bad idea, right? Does a meeting with a Greek client mix well with a romantic getaway? Ask Ronnie.
I, for one, wouldn't have wanted to give up the opportunity to get to know Vivian Patakos face-to-face.
A few months ago, we got a call from Greece. On the line was a woman named Vivian, who, in a heavy Greek accent, said she wanted her website translated into Hebrew. That alone was intriguing. Turns out that Vivian, an attorney with a long legal career behind her, owns a luxurious hotel and spa in the town of Xylokastro on the Corinthian Riviera, some 120 km. from Athens, and now, after hundreds of Norwegian, Russian, Italian, and German customers have soothed their bodies in the temperate sea and treatment rooms, she wants to bring word of her enterprise to us Israelis.
Vivian, a focused and highly motivated woman, promotes tourism to the entire region, not just her own establishment. To the average tourist, the location is not as known as Mykonos, Rhodes, or Santorini, but it offers amazing beaches, fascinating archeological finds, sailing, and treks through the nearby mountains.
Vivian got to Lichi Translations thanks to the warm recommendation of an Israeli friend, which was, in and of itself, very gratifying to learn. Obviously, we got on board to help her. Before long, the Hebrew website started to assume brilliant form.
"You don't mind, Ronnie? Right? We'll meet her at the end of the trip, when we get back from the island. We'll just meet her at a cafe and talk for a while. It really matters to me. Please!"
In our household, Ronnie always has the last word. This was true once again. "Yes, dear. Anything you say, dear."
It's hard to imagine a more pleasant and relaxing vacation than the one we had on Andros. A relatively quiet island, without hordes of elbow-to-elbow tourists, most visitors are Athenians who take advantage of Andros' proximity to enjoy mellow, out-of-town weekends.
We met Vivian and her husband Bill at the port in Rafina. It was instant chemistry. Vivian is full of energy and joie de vivre. Any initial ice was broken within seconds, and the formality of the provider-client relationship disappeared in the light northeaster breeze. We shared some stories about our lives and businesses and discussed ways to promote the region of Vivian's hotel to the Israeli public. But, more importantly, we established a warm, human relationship. Who knows where it will take us? After a short stint at the cafe, we climbed up to an outlook above the port, complete with a small picturesque church, and took some photos of one another.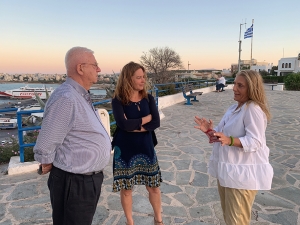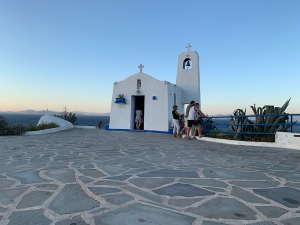 Lichi Translations' vision talks about connecting two disparate points no matter how far apart they may be. I think that is exactly what happened here. And these connections are precisely what make my job so fascinating and my life in general so interesting.
Efcharistó Vivian!
פוסט זה זמין גם ב: Hebrew
https://www.lichiblog.co.il/wp-content/uploads/2019/07/IMG_0537.jpg
1980
3520
רוני חפר
https://lichiblog.co.il/wp-content/uploads/2015/04/baner-en.png
רוני חפר
2019-11-15 18:40:12
2019-11-15 19:01:13
My Greek Client