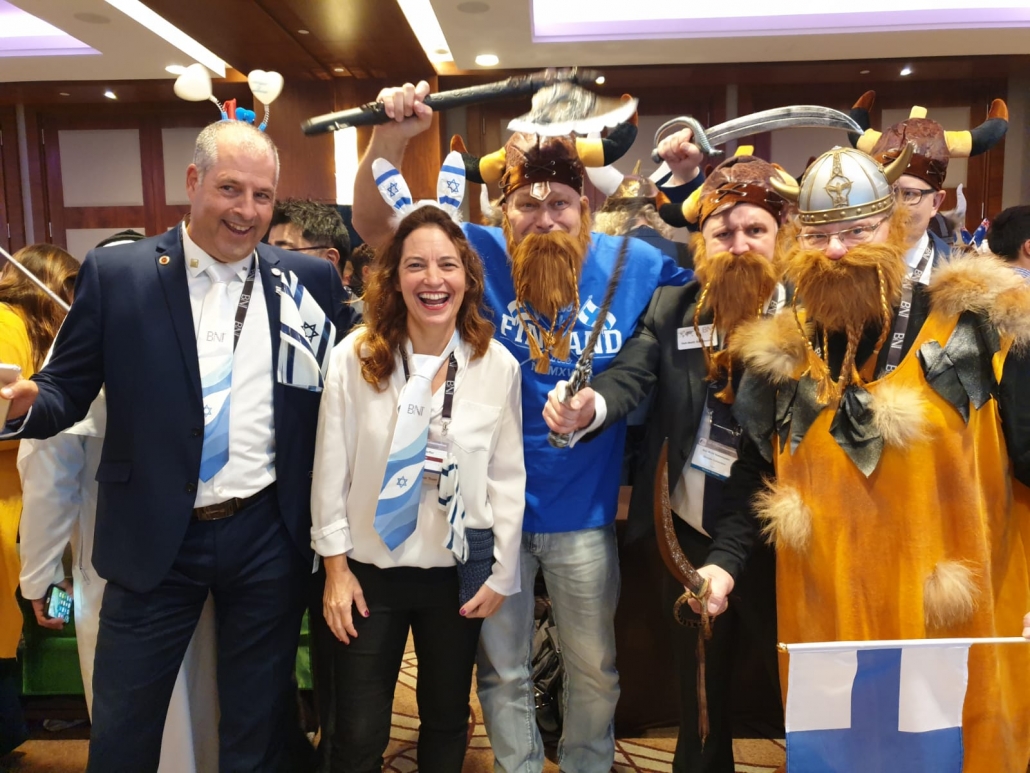 You will not need to force or threaten me in order to extract the following statement from me:
I hereby confess I love networking!
I enjoy meeting new people and making connections. The "Giver's Gain" philosophy suits me quite well. The wheel of the universe goes round and round.
Every Monday, for over ten years, I leave my sleeping husband and head out, sometimes even before dawn, to my BNI Chapter meeting in Ness Ziona, Israel. I will briefly state that BNI, which stands for – Business Networking International, is a large international organization that spans throughout 70 countries around the world and brings together over 260,000 business owners. The chapter I'm a member of, in Nes Ziona, is now – to my greatest pride – the largest chapter in Israel with a business turnover of USD 4.3 Million!!! What does that actually mean? It means that members of the chapter, together, reported this sum for business generated to them thanks to referrals they received from other members. I love the people, the friendship and the powerful energy which is impossible not to notice the moment you step through the doors of the complex where the chapter meetings are held.
But BNI Nes Ziona is not enough for a woman called Mikhal Heffer, and so I found myself on a plane to Warsaw, to take part at the Annual BNI International Conference.
Everyone was there! BNI members from Japan, India, Hungary, Italy, Australia and more. In addition, it was a wonderful opportunity to meet BNI members I knew, whether personally or virtually from my many years of international activities. There is no greater fun than meeting them face to face and giving them a warm hug. And of course, I was delighted to be part of the distinguished Israeli delegation of members and management team who traveled to the conference from Israel.
One of the activities I enjoyed most during the conference was the delegation carnival. Each country wore traditional attire that represented their country. The Israeli delegation presented delightful blue and white ties, sang the 'Hava Nagila' and 'Hine' Ma Tov Uma Naim' songs and waved our country's flag most proudly.
Apart from interesting lectures, endless mingling and delicious meals, we also visited some local companies, managed by BNI Warsaw members, from whom we learned that there is a place in the organization for businesses that are larger than what we have become accustomed to in Israel.
So, did I rest on laurels? No way!
In addition to my activities in BNI, a few years ago, I established The Lichi Business Forum– a platform for business owners who work internationally to promote their business through networking and meeting with others who have a common background and business interests. The Forum gets together every few months and deals each time with a different target market, The meetings include lectures and networking activities. During recent years, the forum meetings target the Chinese market, and are held under the name "The Ming Ling Dynasty"
A few weeks ago, I held once again an event for dozens of businesspeople sitting next to round tables in a big hall at one of the top hotels in Tel Aviv. The Ming Ling Dynasty meeting took place for the fourth time during which the participants had the opportunity to present themselves as well as the challenges they are facing while working with the Chinese market. I enjoyed seeing the flowing conversation around the tables, the looks and smiles, the pats on the back and the heartfelt handshakes and especially the business cards that were rapidly exchanged.
I couldn't be more satisfied with the words said to me by a young business owner at the end of the event: "Listen Mikhal, my dream came true! For a while now I have been dreaming of making a certain international business connection, and I almost gave up, when suddenly I saw him today, sitting at this table. I am elated!" As far as I am concerned, it was all worth it just to hear such words.
So, now I am back again, facing the computer screen in my small office, resting a little from the adrenaline surge and information overload, feeling a great deal of satisfaction, knowing that the international business world had opened its arms to accept a small lovely translation agency from Tel Aviv in a loving embrace, and it too feels completely at home in its arms.
פוסט זה זמין גם ב: Hebrew
https://www.lichiblog.co.il/wp-content/uploads/2019/12/PHOTO-2019-11-07-11-10-43.jpg
1200
1600
רוני חפר
https://lichiblog.co.il/wp-content/uploads/2015/04/baner-en.png
רוני חפר
2020-01-30 08:59:46
2020-02-18 20:05:06
My International Networking Month