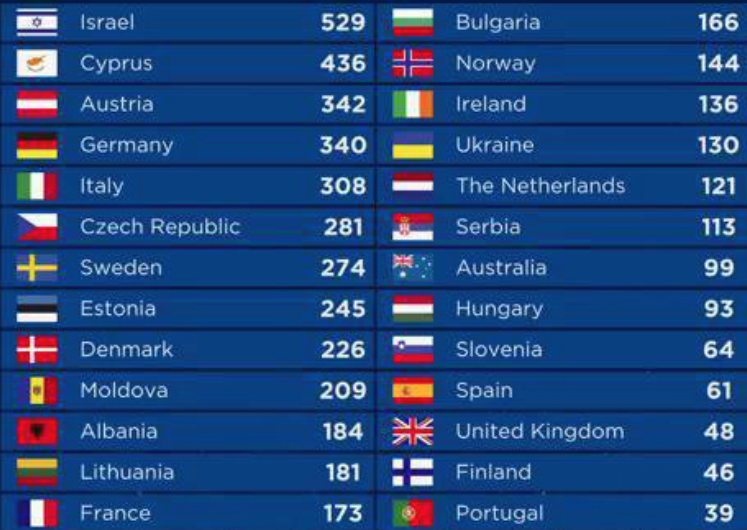 Allow me to begin with a small, personal anecdote. You'll get the connection in a second.
For anyone who still doesn't know, Ronnie, my husband, is the author and illustrator of six children's books, . His first book, "Chambaloo's Treasure," was made into a play produced and directed by our tremendously talented niece, Keren.  Keren had gathered a group of young, lovely, and highly motivated actors, who performed a humorous and charming play. The play is about Chambaloo, the bored dragon, and his enemy Hans, the knight, who ultimately becomes his friend. After the successful premiere at the Jerusalem Khan Theater, which we of course attended, we met the excited actors, and warmly embraced each one. The dragon was perfectly portrayed by a young actor who turned out to be delightful, modest, and even a little shy. After several performances, the production was suspended, because that actor, Kobi Marimi, decided to audition for the "Rising Star" reality singing competition. And he won!!!  Consequently, he represented Israel at the Eurovision Song Contest 2019 that took place in Tel Aviv.
Why in Israel? Because last year, Israel won with the great song – "I'm Not Your Toy" performed by Netta Barzilai.
I'm not a big fan of the European song contest. In recent years, I haven't really followed events or watched the broadcasts. But a year ago, I happened to sneak a peek, and I was hooked. Netta Barzilai's victory really inspired me and filled me with pride. I promised myself that this year, with the Eurovision coming to Israel, I'd be there, by hook or by crook.
From the perspective of someone who deals with languages, there is one thing that has always interested me about the contest.
During my early years, I remember that the stage was occupied by an orchestra and a conductor, and the singers just sang without much attention to costumes or pyrotechnics. That was something very striking, compared to today. The competitors, then, sang in their own language. I don't know if there was some sort of rule back then that required participants to sing in their native tongue (I assume not, because Abba's "Waterloo" was sung in English), but it seemed so much more natural that the French singer would sing in French, the Spanish singer in Spanish, and the band from Azerbaijan would sing in… Oh! I forgot. There wasn't an Azerbaijan yet!
Anyhow, there was something really nice about that – to sit in front of the TV screen and hear this fascinating babel of languages. Sometimes, a country would take it one step further, and also try to bring its folklore to the competition. I remember trying to figure out what the handsome Italian performer was singing about ("amore" – what else?), why the Portuguese singer was so sad ("meu curacao" – someone must have broken her heart; maybe it was Cristiano Ronaldo?); and what the connection was between the lily-white Germans and Genghis Khan.
Today, however, it's a show, and national representation has lost some of its charm. With the exception of a negligible number of outliers, everyone sings in English. Even the Finnish and Azeri contestants sound as if they grew up in Memphis or Manchester. Maybe it's part of our becoming a global village, but in my opinion, it's a shame that the universal magic is being lost within a mega production of lighting, costumes, and playbacks. On the other hand, had Netta sung "I'm Not Your Toy!" with an Israeli accent, in Hebrew, I'm not sure we'd even be talking now.
So let's get back to Lichi and me.
Anyone who knows me from my blog or real life, knows that, in recent years, I've constantly striven to play a role in international events happening in Israel. Lately, there have been more than a few of these. We've translated for the Sea of Galilee Swim, worked with the production of Giro d'Italia, the second largest cycling event in the world, which kicked off in Israel last summer, and more. It was, therefore,only natural that the moment we realized that the Eurovision was landing in Israel, I started sending out feelers.
So how does one even begin to approach a Eurovision production? 
…. With lots of determination – and a little bit of luck.
I started looking for referrals to individuals associated with Eurovision in the BNI networking group where I am a long-time member. Destiny did a pretty good job: At one meeting, one of the guests attending, coincidentally, knew a videographer who works with the Israeli Public Broadcasting Corporation, the entity producing the event. That videographer referred me to the relevant contact person who knew me from a few years back, and the rest is history.
After some complicated negotiations – the kind only government bodies are capable of conducting – we embarked on a project to translate documents from English to Hebrew, and vice versa, having to do with the Eurovision production, including contracts, regulations, tenders, and more. Lichi Translations participated in an event representing Israel among the nations, and I'm very proud to have been there when we were needed.
We did not receive tickets to the grand finale. It seems there were other people with connections ahead of us. But, hey, we met Kobi Marimi first, face-to-face. So what if he was dressed up in his dragon suit?
פוסט זה זמין גם ב: Hebrew
https://www.lichiblog.co.il/wp-content/uploads/2019/06/צילום-מסך-2019.06.25-ב.15.05.38.png
530
747
רוני חפר
https://lichiblog.co.il/wp-content/uploads/2015/04/baner-en.png
רוני חפר
2019-06-25 13:59:28
2019-06-26 14:21:28
Lichi, Douze Points