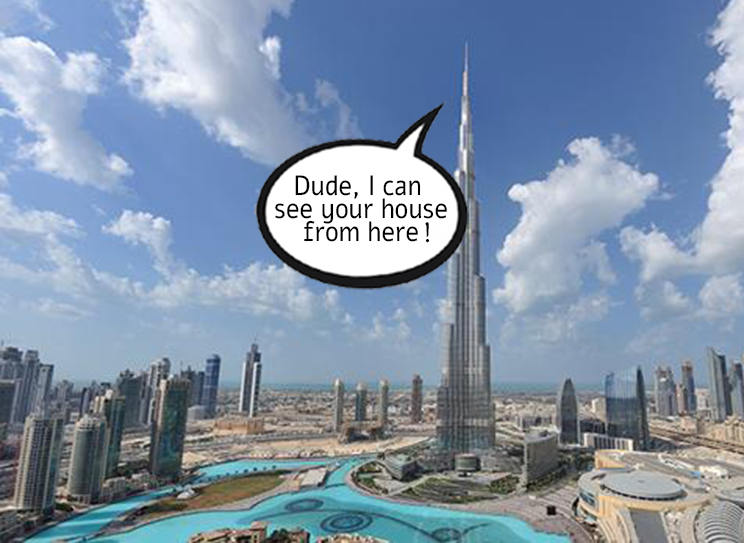 Once when we fantasized about peace with our Arab neighbors, we would say, "one day we will sit in Damascus and dip pita bread in hummus". So here we are: the State of Israel has just signed a peace treaty with the UAE, and soon planes will begin flying between the two countries, though I don't think anyone is actually thinking of flying to Dubai or Abu Dhabi for some hummus. For caviar perhaps.
When we think of Dubai or Abu Dhabi, we don't imagine a "typical" Arab country with narghile smoke curling up out of coffee shops, but rather an infinity of huge shopping malls covered in marble and gold and enormous skyscrapers proudly topped by Burj Khalifa, the tallest building in the world.
Business and money, that's the name of the game. And that's where most of us are aiming.
I am aware this peace agreement is not all about business relationships, and there's a good chance that soon the Burj Al Arab Hotel's buffet will be bustling with flip flops and Israeli post-army backpackers eating huge amounts of baklava and kanafeh. And among the many levels of the huge Dubai Mall we will be able to hear from time to time something on the order of, "Motti, how are you doing dude? Listen, we found the best deal ever here!" Because when you permit the Israelis to explore a glamorous new location, even if they're not allowed to walk around in shorts in the middle of summer, they won't easily give up on the opportunity.
But first things first: what is the United Arab Emirates anyway? I have a feeling that some may not know much about this place, except that there's lots of money and large, beautiful malls.
The UAE is a federation of 7 small Arab principalities located along the Persian Gulf coast in the northeastern part of the Arabian Peninsula. There's Abu Dhabi, the largest emirate, and Dubai, the largest and most populous city in the federation (with the tallest tower). But there are also Ajman, Fujairah, Ras Al Khaimah, Sharjah, and Umm Al Quwain. You definitely don't need to remember all of these names – you won't be tested on this.
And you've guessed right: there is oil there as well, lots of oil. The oil comes mainly from Abu Dhabi, which is significantly larger than the other emirates, but the other sheikhs reap its fruits too, so the standard of living in the UAE is one of the highest in the world.
So now you are probably imagining that wandering in the streets of Dubai provides us with an exotic view of men in white galabiyas and keffiyehs and of women covered in veils from head to toe. Sorry to disappoint you then. The vast majority of the UAE residents aren't even Arabs. In fact, out of the nearly 10 million people comprising the country's residents, only 1.4 million are Arab citizens of the federation. The rest are all foreign workers and residents from 200 different countries, and most come from India, Pakistan, and other Moslem countries but also from America and Europe.
And some of them I know really, really well.
I know Sagarika, Dr. Oudi, Federica, and Shirrine from an international group of the BNI networking organization of which I've been a member in the last 11 years. Most of my activity in the organization – for those who have not yet been exposed to my nonstop blabbering on the subject – is in my local chapter in Ness Ziona, which is the largest chapter in Israel. Every week on Monday morning we meet in a regular venue – recently on Zoom – and generate together business opportunities for each other. The international group, which conducts most of its activities on Zoom, is almost the same, with the exception of maybe the hugs at the end of each meeting. That's how I got to meet business owners from all over the world, including of course from the UAE. Needless to say, all of them speak excellent English, and although the official language in their country is Arabic, what you'll hear in the streets, malls, hotels, and office buildings is mainly English.
So, if you're sitting now and wracking your brains where to start and how you can find good connections in the UAE, you should first know that there are Israeli companies that have been active there for years, undercover or not. But if you're not that well connected, then maybe you should meet Federica who manages Nur International Group who provides business incorporation and support solutions, and she would love to assist you in establishing a company or business activity in Dubai.
If your heart desires to organize a glistening and impressive event in Dubai, I will gladly introduce you to Sagarika Sahoo who organizes physical and online events and conferences. For your convenience, I have attached Sagi's company profile (Sagi is her nickname that we very affectionately use).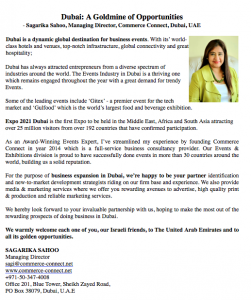 Are you interested in corporate gifts, promotional items, and printing collateral, for any event you plan to attend in the Emirates? the Expo 2021 perhaps? Let Shirrine Khambata of SHIKMO International Advertising L.L.C. be your partner. You don't need to carry heavy suitcases, just place an order with Shikmo and they will deliver to you in Dubai.
And if you've decided to climb every step in Burj Khalifa and now you have a stiff back, you're invited to the clinic of Dr. Oudi, a friendly Canadian chiropractor who has been living in Abu Dhabi for several years now. Here is a short video greeting sent to me by Dr. Oudi plus a few useful tips for those planning to pop a visit to the UAE in the near future.
I wish us all a successful and fruitful peace treaty, and hopefully, there will be others coming after it. And who knows, maybe one day after all of that caviar and champagne, we will dip a piece of pita bread into some great hummus in Damascus as well…
פוסט זה זמין גם ב: Hebrew
https://www.lichiblog.co.il/wp-content/uploads/2020/10/tower.jpg
543
744
רוני חפר
https://lichiblog.co.il/wp-content/uploads/2015/04/baner-en.png
רוני חפר
2020-10-10 15:06:54
2020-10-11 22:30:22
Dubaians, here we come!