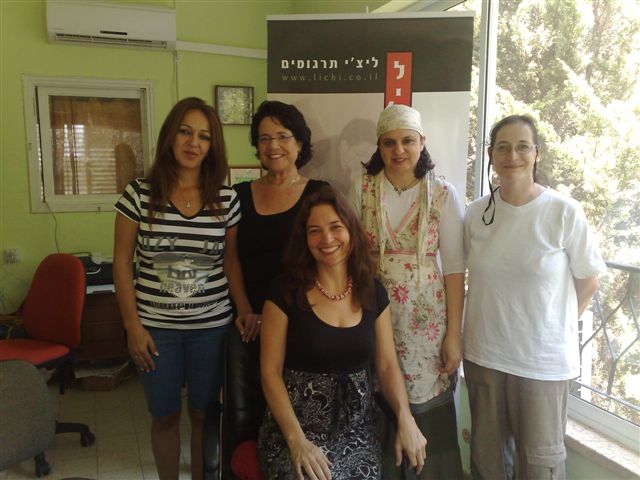 Several days ago, I hosted a meeting of Lichi Translation's staff. To many of you, this might seem like a very common thing to do – an ordinary business meeting – but for me, it was anything but trivial.
There we were, 5 terrific women, each one an expert in her field:
Reut – our project manager
Anat – our office administrator
Yael – our international marketing manager
Michaella – our customer relations manager
and myself, Mikhal Heffer, whom you already know…
For many years, I ran a one-man business
I founded Lichi Translations 13 years ago, and for many years I worked without a permanent team. It was only in 2005 that I recruited Reut. I've known Michaella for more than 10 years, and for a few years she worked on a seasonal basis. It was only this year that she started working full time. The office administrator's position has been around for some time, but has only recently evolved into a regular and daily job. And the role of international marketing manager is definitely new. Now, with Lichi Translation's entrance into the global market, international marketing is top priority.
Business consulting services are guiding Lichi exactly to where we want to be…
The meeting was also attended by Israel Topper , Lichi Translation's business consultant, who has been working with me for over 5 years.
In our team meeting, we discussed "serious" issues – pricing of our translation services, retaining our regular customers, customer feedback, advertising, and so on.
Issues that "big" companies talk about.
I sat there and felt absolutely proud.
Proud of my team, of my achievement, of the unique and charming atmosphere that we've created, and of Lichi Translations which is continuing to grow and develop.
I smiled, and said quietly to myself, "Cool, I've built a real business"…
https://www.lichiblog.co.il/wp-content/uploads/2015/04/d7a6d795d795d7aa-d79cd799d7a6d799-d7aad7a8d792d795d79ed799d79d-6.jpg
480
640
רוני חפר
https://lichiblog.co.il/wp-content/uploads/2015/04/baner-en.png
רוני חפר
2010-08-01 10:41:23
2021-03-27 14:47:41
The Team Leading Lichi to Success