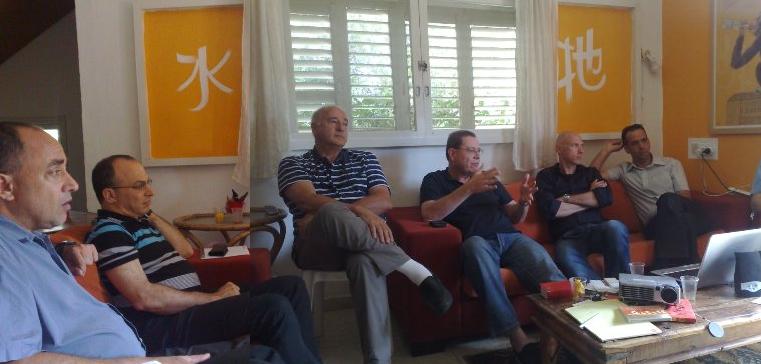 On 9.8.2010, Lichi Translations hosted the second meeting of the China Forum. The forum is a power circle of successful business people, who specialize in services associated with the Chinese market. The aim of the China Forum meetings is to network, brainstorm and get to know the business community that works with China.
The members of the China Forum include:
Tal Reshef
 – lecturer on cultures and businesses, specializing in the Chinese market,
Nir Ben-Dov  GM of Mangosteen Sales and Business Development services in China and APAC. Chiefly in the Telecom, Hi-Tech and HLS as well as specialized sourcing from China,
Eytan Gilboa, facilitation of business in Asia and China
Tzahi Kanza director, YSIN – Chinese language school,
Adv. Ziv Wassercug of Yuval Cohen, law office, legal services for Israeli companies in China,
Mepi Frankel of PTL group, specializing in outsourced management services in China
Robert Barzilai business project development,
Motti and Ruth Harkabi, Zhong Polaris – development and promotion of Israeli technology in China,
Adv. Yoav Sade Landa & Sade, law office – legal services for investors in Chinese firms,
Nadav Sade textile production services in Hong Kong,
Doron Averbuch sales of hi-tech products to China.
Mikhal Heffer: Well, you all know me.
What happened at the meeting?
We began with a 2-minute round of introductions, in which each person also outlined the referrals he was interested in. I then gave a presentation about the Chinese language. Finally, we held a brainstorming session – an open discussion about various topics that were raised.
Referrals to members of the China Forum – everyone gains
The aim of the forum is to create collaborations and to deal with referrals that come our way. From time to time, we all have clients who turn to us with a request that is outside our expertise. The natural tendency is just to say, "No, I don't deal with that." In a forum like the China Forum, made up of business people with complementary areas of interest, we can all do cross-referrals, knowing that we are offering our clients the best possible service.
For example:
• A client turned to Lichi with a request to translate documents into Chinese, and she also wanted inter-cultural counseling. I immediately referred her to Tal Reshef, the Chinese inter-cultural expert.
• Mapi Frankel invited Tal Reshef to give a lecture at the PTL conference for business people working in China.
Many examples of collaboration have resulted from the circle, and the purpose is that we should all grow and gain from the China Forum.
We would be delighted to enlarge the circle and invite more business people, managers and company employees with an interest in the East (China, Japan, Korea) to come along and see.
The next meeting will be on Sunday, 3rd October at 10 am, at Tal Reshef's office in Moshav Azariah (near Latrun). Further details will appear soon on our internet site.
If you want to join the forum, add a comment: we'll add you to our mailing list and send you a personal invitation to the next meeting.
If you want to raise a topic for discussion or tell us about collaboration that has resulted from the forum, please add a comment and also sign up to lichi translations facebook page
https://www.lichiblog.co.il/wp-content/uploads/2015/04/china-forum.jpg
364
761
רוני חפר
https://lichiblog.co.il/wp-content/uploads/2015/04/baner-en.png
רוני חפר
2011-09-27 10:39:33
2015-04-16 10:27:08
Meeting of the China Forum – Power Circle of Business People