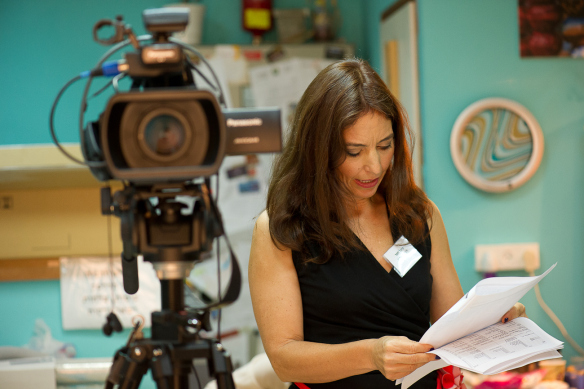 Lichi Translations is, above all, about people.Our greatest asset is our pool of translators – hundreds of men and women located all over the world, who supply us with top-quality translations in the language they have spoken from birth. Our translators connect us with the world. Thanks to them our clients can communicate with people who work in a foreign language, and do business with associates whose culture they don't know. Our translators are always there for you and for us.That's why, when planning the new promotional video for our new branding, our immediate thought was to give center stage to our translators – The faces of Lichi – to convey the varied, international quality of Lichi's services and the way we connect different languages, different cultures, different people and different businesses. Production began to take shape while we were working on our website. The person who wrote the script, directed and edited the video was, the person who gave the lowest quote: Ronnie, my talented husband. Sometimes it pays to know who to get married to…In effect, our entire team – Reut, Rotem, Lilly and Anat – was recruited into the production process and was kept busy with coordination, transportation and tying up loose ends. We were all excited to be involved in a project that took us out of the (happy) routine of work and offered us a soupçon of Hollywood glamor.
All the participants – translators who work with us on a regular basis, as well as part of our team (including myself, of course) – made their way eagerly to the studio. Make-up, a short rehearsal and then, nervous and excited, we found ourselves in front of the camera, blinking in the spotlight. Some of us would do well to consider acting as a second career…. Note the guy speaking Tigrinya – if he doesn't qualify to be Lichi's in-house model, then who does?!
To be honest, I haven't enjoyed a day's work so much in ages. There was a kind of electricity in the air and a congenial, happy atmosphere.I feel that we've created a video that depicts Lichi Translations in authentic, human colors. A video that shows us just as we really are: a company of committed people working for people. I hope you'll like it as much as I do.And now, a big 'thank you' to all those who helped make it happen: Ronnie, Reut, Rotem, Lilly, Anat, Gil, Tami, Shelly, Johannes, Ephraim, Yumi, Mario, Galia, Leo, Felix, Rozanna, Natan, Zelalem, Rachel, Yetbarak and David.Watch the full video on the side bar.
https://www.lichiblog.co.il/wp-content/uploads/2015/03/d79cd799d7a6d799-24.jpg
389
584
רוני חפר
https://lichiblog.co.il/wp-content/uploads/2015/04/baner-en.png
רוני חפר
2015-03-10 09:43:28
2015-06-13 23:13:06
And... Action!