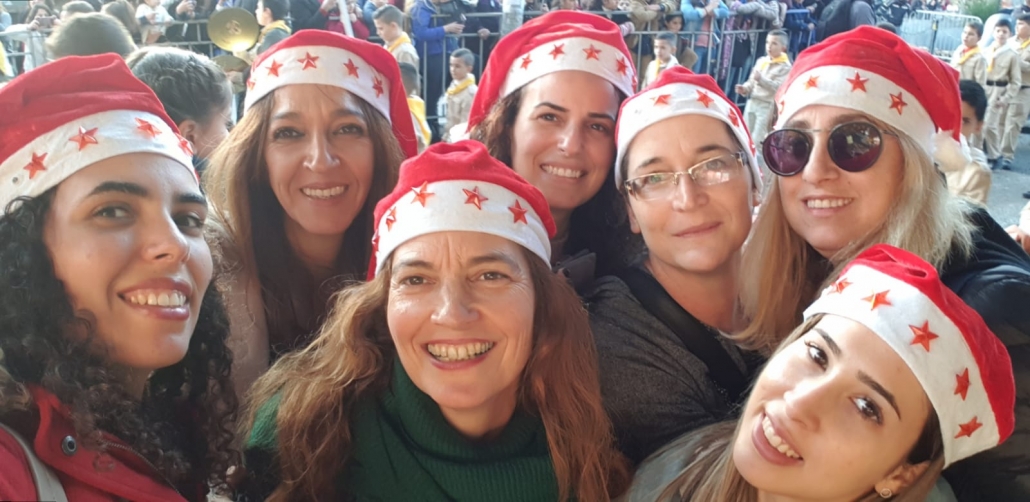 Corporate events have always been a part of Lichi Translations DNA.
At least once a month, we get together for a pampering breakfast on the beach, or for a fun filled day packed with excitement. I documented some of our activities in posts like "Meet the team leading Lichi to success", "History, Agriculture and Roots", and more.
Once in a while I order my team to leave everything, pack a suitcase, leave their husbands, children, computers, e-mails, customers or translators behind, for one purpose only – to have some fun together.
To celebrate the ending of yet another successful year and Christmas, we decided to rent a villa in Nazareth and spend the holiday in the city where Jesus grew up playing 'PlayStation' with the gang before he opted to become the messiah and establish a little religion of his own..
Indeed, Nazareth wore its Sunday's best for us. After all, it's not every day that such honorable representatives of Lichi Translations arrive into town. On the first day, we took part in the great traditional Christmas Parade which passes through the city's streets, and visited the giant Christmas tree, the largest in the Middle East, decorated with thousands of colorful lights.
My good friend Ayelet joined us on the second day. Ayelet is a culinary tour guide and she took us on a fascinating tour of the old market streets, the food stalls and restaurants. We tried our best not to count calories…
But why write about it when we can watch a video?
But Christmas for us is not just fun it's also an intensive time of work
As a company that is deeply involved in the international business market, we perform many translation assignments relating to this important holiday.
Sabon, for example, proves time after time that for this Israeli company, success smells wonderful. The company manufactures aromatic soaps and is greatly successful in the international market, which makes Christmas a hot season to buy their products. We walk with them side by side in the marketing aspect, providing translations, transcriptions and embedding subtitles into videos, in order to make the holidays clean and fragrant for hundreds of woman and families around the world.
Here is a short video taken during my recent visit to one of the Company's stores.
Another customer of ours which generates a great deal of business during the Christmas holidays is an international jewelry company.
The company offers a wide selection of high-end necklaces, rings and bracelets with personalization options. Customers can engrave a name or personal text on the piece to celebrate those precious moments in life. This brand is being sold with tremendous success mainly in European countries and in the United States.
Unlike many other companies who sell products internationally and set up one multilingual website, the company had decided to create a separate brand for each country. We call it localization. Localization has a great advantage mainly due to the fact that users feel the product is locally manufactured, anywhere in the world, a fact that increases sales significantly. You can probably understand yourselves how such products sell during the holiday season of Christmas and the New Year.
This is what the client says about us:
"We started working with Lichi several months ago. Up until then, we did all our translations internally. Moving our translations to Lichi elevated the quality of our translations into a highly professional level. Searching for suitable translators, and working closely with Sivan the projects manager, is pleasant and professional. The response is immediate, deadlines are met, and the workflow is always smooth. I enjoy working with Lichi very much, and recommend them wholeheartedly. "
https://www.lichiblog.co.il/wp-content/uploads/2019/01/PHOTO-2018-12-26-13-20-48-1.jpg
780
1600
רוני חפר
https://lichiblog.co.il/wp-content/uploads/2015/04/baner-en.png
רוני חפר
2019-02-03 11:05:36
2021-03-27 14:45:22
Our Christmas