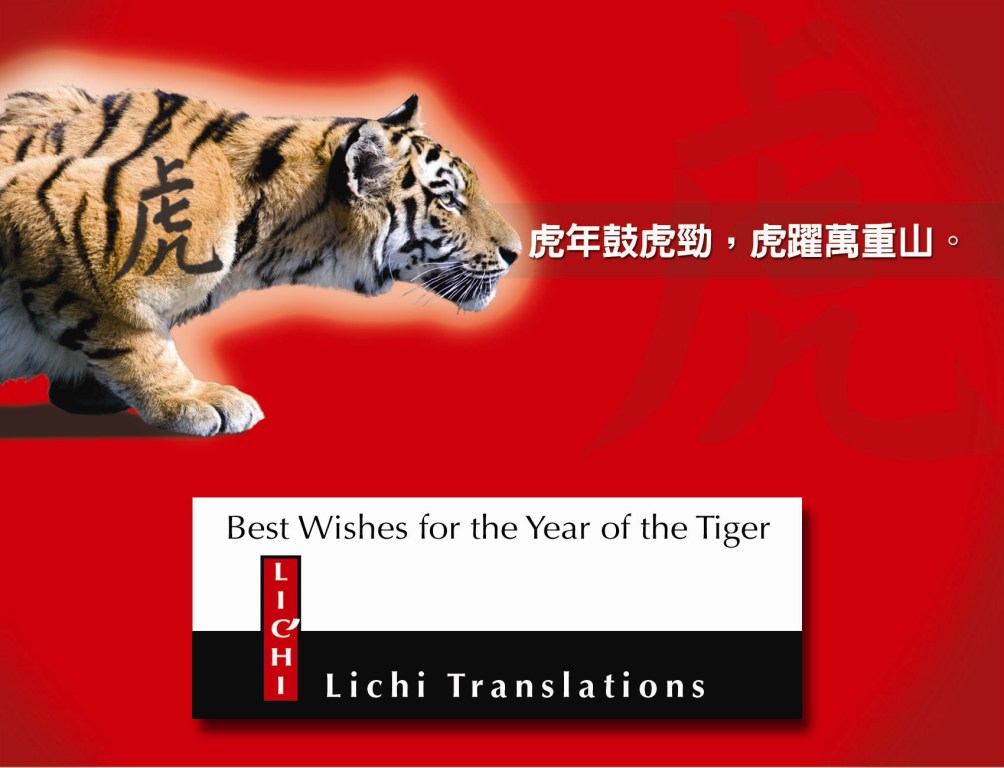 Yep. It's holiday time and the holiday is right around the corner. In just two days time it will be here…well it will be there, to be precise. But the fact that it's not observed in the west like the Gregorian New Year is, doesn't diminish its importance one bit.
In China, it's customary, no, expected, that one should send greeting cards as a sign of respect. This takes the form of cards as we have in the West. Lichi Translations can offer you an immediate solution – personalized ecards including your company logo, to be sent out to your Chinese contacts.
for more details: http://www.lichi.co.il/english/greeting_eng.html, lichi@lichi.co.il
chinese new year – lichi Translations
גם אתם כאלה שדוחים דברים ודוחים אותם ובסוף מתעוררים בדקה ה-90, בשיא הלחץ, כמעט מפספסים, אך בסוף מצליחים ברגע האחרון במשימה שאותה כל כך דחיתם?
הפעם יש לי גלגל הצלה בשבילכם ואתם חייבים לנצל אותו ממש עכשיו, כי זו באמת כבר הדקה ה-90…
תוך פחות משבוע חל ראש השנה הסיני!
ראש השנה הסיני חל ב-14.2.2010 ואם יש לכם עסקים בסין, יפן, הונג-קונג, טייוואן או סינגפור אתם מחויבים לשלוח לעמיתים וללקוחות כרטיס ברכה לראש השנה הסיני.
מה זאת אומרת כרטיס ברכה?
בעולם האסיאתי נהוג לשלוח כרטיסי ברכה לראש השנה הסיני. עבורם זהו נימוס בסיסי לשלוח ולקבל ברכות מכל האנשים והעסקים הנמצאים בקשר איתם. ליצ'י תרגומים זיהתה לפני שנים את היתרון העסקי שמשיגים עסקים המתייחסים בכבוד לחג זה ושולחים כרטיסי ברכה מעוצבים וכתובים בשפה הסינית ובאנגלית. אנו מציעים כרטיסי ברכה מודפסים וגם  כרטיסי ברכה דיגיטאליים למשלוח ברגע האחרון.
איך אפשר להספיק ולשלוח כרטיס ברכה?
כנס עכשיו לגלריית הברכות של ליצ'י תרגומים ובחר ברכה מעוצבת לשנת הנמר (זו השנה הסינית החדשה שמגיעה).
ניתן להוסיף לכרטיס הברכה את לוגו החברה – הזדרזו לשלוח לנו אותו למייל הבא:cards@lichi.co.il
התקשר 077-5402278 , 054-2541577  או שלח מייל להזמנת מספר הברכות שברצונך לקבל 
  lichi@lichi.co.il, טל: 052-3516070, 077-4180100, פקס: 08-9155559
אנו שמחים שיכלנו בזמן קצר לענות על צורך מיידי ולתרום לשיפור היחסים העסקיים שלכם עם העולם האסיאתי. פרטים נוספים באתר שלנו www.lichi.co.il
https://www.lichiblog.co.il/wp-content/uploads/2015/04/chinese-new-year-lichi-tiger.jpg
768
1004
רוני חפר
https://lichiblog.co.il/wp-content/uploads/2015/04/baner-en.png
רוני חפר
2010-02-10 10:50:00
2015-04-16 10:35:35
Giving holiday cards in China: a tradition that's over 350 years old