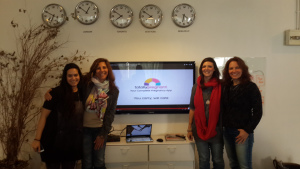 ֿI don't know if you noticed, but … I'm a woman. And as such, I was also pregnant. Twice.
The results of this unprecedented phenomenon are now wandering around the house asking for money for all kinds of unnecessary things (just kidding…they are great kids), but this amazing experience of life being created within me, will stay with me until my last day.
Neither of my pregnancies was particularly difficult. Although the birth of my eldest son Tom ended with two weeks in intensive care and is registered, to this day, in the medical literature of the maternity ward at Ichilov Hospital in Tel Aviv, but the pregnancies themselves, including the birth of my little daughter Gaya (who will soon have a Bat Mitzvah), passed comfortably and calmly to the extent that I too wondered, from time to time, if I was really pregnant or had just put on a little extra weight (oops)…
The world of pregnancy and childbirth is an entire world that binds within it many areas – mental, physical, medical and more — and most women (yes, we are talking mainly about women), who are involved in this unique process, especially those in their first pregnancy, are up to their necks in gathering information from any source connected with this area.
So how is this related to Lichi Translations?
A few months ago we received an inquiry from a dynamic studio in Tel Aviv. The talented members of this studio had developed an application incorporating everything a pregnant woman needs to know and is called: Totally Pregnant.

My female hormones and those of the other female employees of Lichi were awakened: it's not every day that we get to deal with something that connects to us at such a personal level and touches on such sensitive aspects of womanhood and the maternal instincts within us.
The work on this project was sheer pleasure. The entire application was translated from English to Spanish and to Japanese, including subtitles to 180 very moving video clips that described the entire pregnancy and birth cycle in amazing quality.
Lilly, our Project Manager, who is also a mother, tells of a very special connection with the customers and they too became very fond of her. Well, how can you blame them?
Miriam Cronin, Brand Manager at Totally and I, on a short interview about the project.
To view click here or on the video itself.
We at Lichi really like the logistical complexity of large projects of huge companies in Israel and abroad, but occasionally a very special project simply springs into our lives touching us so personally, so thanks to Totally Pregnant for the opportunity to work with you.
And if anyone here is coping with a pregnant belly or someone is about to become a father, take our warm recommendation for the app and download it today, because in pregnancy every day counts. To view click here or on the video itself.
So congratulations in advance to all mothers-to-be.
Wishing you all a great week!
פוסט זה זמין גם ב: Hebrew
https://www.lichiblog.co.il/wp-content/uploads/2015/03/half_pragnant.jpg
169
300
רוני חפר
https://lichiblog.co.il/wp-content/uploads/2015/04/baner-en.png
רוני חפר
2014-05-11 14:45:45
2015-04-16 10:22:25
You Can't Be Half Pregnant