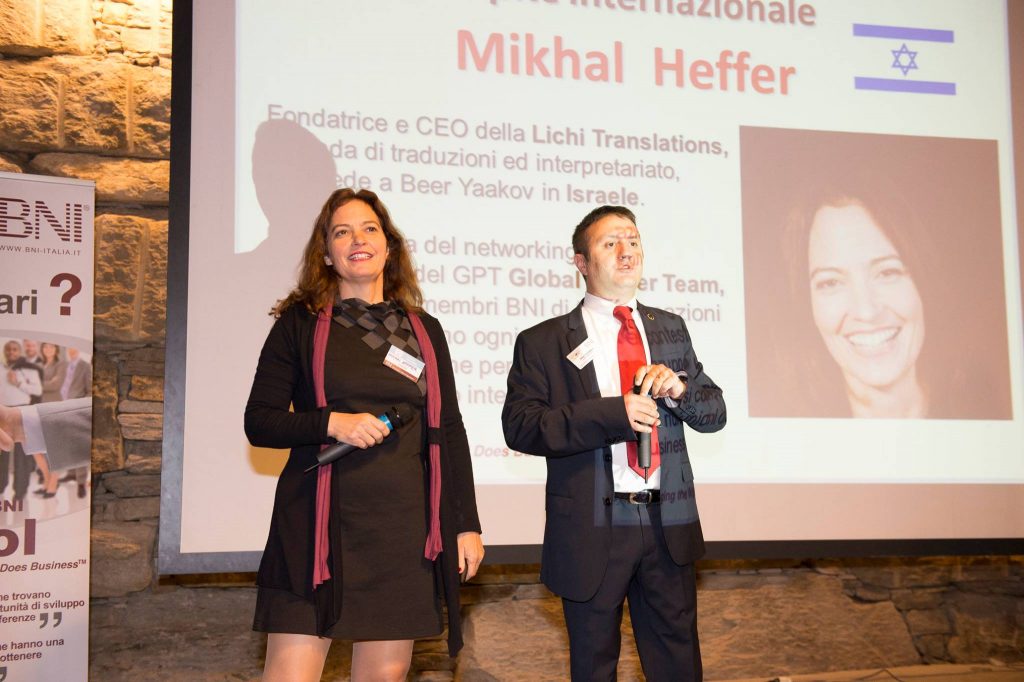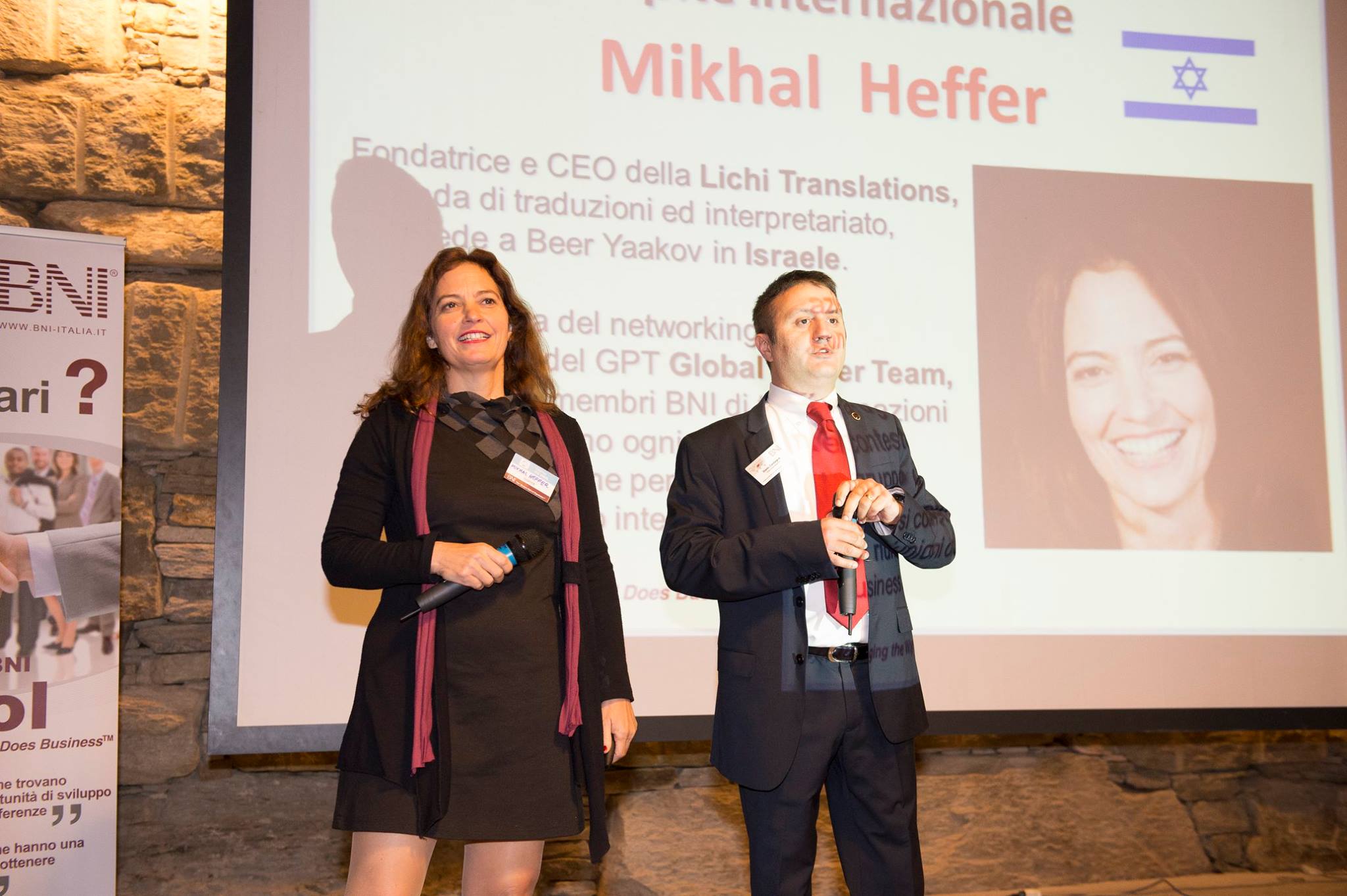 How does a carpenter feel, when his wife takes him to buy a table in Ikea?
Or a gardener wandering around the Gardens of Versailles?
Or a school principal at his daughter's parent-teacher meeting?
Probably more or less how the CEO of a translation agency from Israel feels, when she lectures in English, with an interpreter translating her presentation into Italian at her side.
Yes, after almost twenty years in the translation business, during which I've assigned interpreters in scores of languages to clients all over the world, I finally had the privilege of having my own words translated into a foreign language.
This happened in Saluzzo, a town in northern Italy, not far from Milan, at the launching of a new BNI chapter, attended by hundreds of Italians and one Israeli.
So what is Mikhal Heffer from Israel doing at the launching event of a large international organization in Italy?
For more than 8 years, I've been a member of BNI, an international networking organization with thousands of chapters around the world.
As a member of the international BNI Global Power Team (GPT), I have "met" (virtually) countless business people from different countries, made international connections and received work from clients abroad.
We usually communicate via conference calls, Skype and e-mail, so whenever I'm abroad, I make sure to meet personally with group members or their business contacts.
I met Claudia Piolatto, an Italian architect and director of BNI in the northern Italy region, through the international BNI GPT group, so, while on a trip to Milan, I got in touch with her.
"How amazing! What a coincidence!" Claudia exclaimed enthusiastically when she heard my plans.
"Just when you're in Milan, we are launching a new BNI chapter in Saluzzo, not far from Milan.
Why don't you come to speak about your international BNI activity? You'll be our guest of honor!"
I must admit that a few years ago I would have blushed and politely declined the offer. Me – speak in public?! I would probably have gotten tongue-tied and hidden under the table in embarrassment.
But a lot of water has flown under the bridge since then: I've spoken in public many times and had the opportunity to polish up my skills and even enjoy the occasional compliment on my rhetorical ability.
"How many people will be there?" I asked, imagining a modest gathering in a café or small auditorium. "Somewhere around 450," Claudia replied. "It's an important regional conference." "Oh well, I'll have to cope with this too…", I thought to myself.
And so I found myself enjoying the hospitality of Claudia and her husband, in their charming country house, with an amazing view of an ancient castle
I also had the pleasure of getting to know the regional BNI directors at a gourmet meal in an authentic Italian restaurant, serving regional delicacies – business can be a delicious experience sometimes.
Board of Directors, BNI, South Piedmont, Italy
The hall was packed and the melodious Italian in the background sounded like delightful classical music to me.
To say that I was nervous would be the understatement of the year, maybe the decade.
450 attendees of the BNI chapter launching in Saluzzo
The presentation I had prepared dealt primarily with how to use BNI as a tool for promoting international business and included a warm recommendation to do what I always do – find time to visit a BNI chapter whenever you're abroad.
Why not turn a vacation into a business trip?
Your accountant would approve it!
Here's a short video showing my presentation:
my lecture in seluzzo
The devoted interpreter who translated what I said from English to Italian was the regional director Dario Castagna, and, judging from the audience's response, he did a great job.
I've known Dario for several years through the BNI international group, but we had never met in person. So when he invited me to speak at this event he was organizing, I was thrilled at the chance to finally get to meet him.
Dario and I prepared by going over the presentation and the text and planning the pace at which we would speak. Both of us found this very helpful.
We decided that I would make frequent breaks while talking to allow for immediate translation of short sentences. This interpreting style – a sentence in English followed immediately by the Italian translation – made things easier for both of us. It gave me time to prepare my next sentence and allowed him to give an accurate translation without having to remember too much.
All in all, the interpretation was carried out smoothly and fluently.
Perhaps we'll need your services at Lichi one day, Dario – be prepared!
With Dario the interpreter
It was a really exciting experience – to stand in front of 450 people, to feel the energy and the warmth of the audience, and to lecture on a topic that is so important to me.
I don't know when I'll ever be fortunate enough to experience such a feeling again.
I also discovered something surprising. When you use an interpreter, you, the speaker, have a chance to breathe between sentences, to relax and slow your pulse rate, to think more clearly and focus your message.
An experienced lecturer may not like having the flow of his lecture interrupted, but for most people, the interpreter reduces tension and makes the whole experience easier.
It was probably about time for me to step over to the other side and, for once, experience what a client of Lichi Translations feels when hiring the services of an interpreter.
Thank you to my wonderful, warm hosts and to everyone who came to hear me.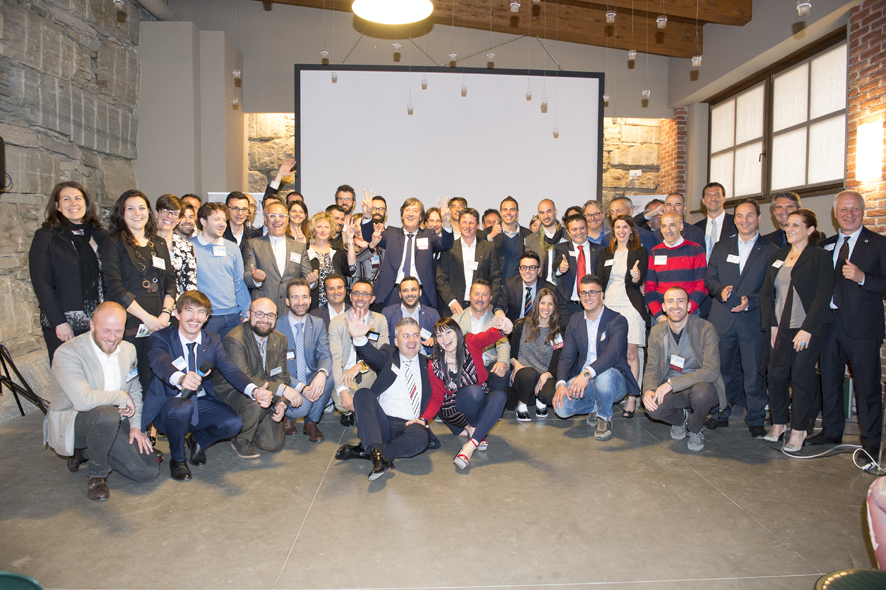 So if you have to give a lecture to an audience that speaks another language or have a guest coming who speaks a language you're not familiar with, contact us as soon as possible at +972-52-3516070, lichi@lichi.co.il
We will be happy to set you up with professional interpreters, so that you and your audience understand everything!
https://www.lichiblog.co.il/wp-content/uploads/2016/07/mikhal-italy-seluzo-lecture.jpg
1363
2048
רוני חפר
https://lichiblog.co.il/wp-content/uploads/2015/04/baner-en.png
רוני חפר
2016-07-14 11:02:33
2017-01-29 11:08:46
Mikhal Heffer, now in Italian